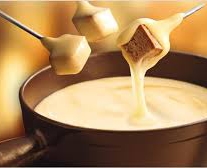 1 (10 3/4-oz.) can Condensed Cheddar Cheese Soup
1/2 c. Swiss Cheese, cubed
1/4 tsp. M-K Granulated Garlic
French Bread or toast, cut into cubes
Stir soup until smooth. Add cheese and M-K Granulated Garlic. Heat, stirring often, until cheese is melted. To serve, invite guest to spear bread with fondue forks and dunk. Makes 1-1/4 cups dip.