1
95 Successful and Flavorful Years of Processing "The World's Finest Spices and Extracts"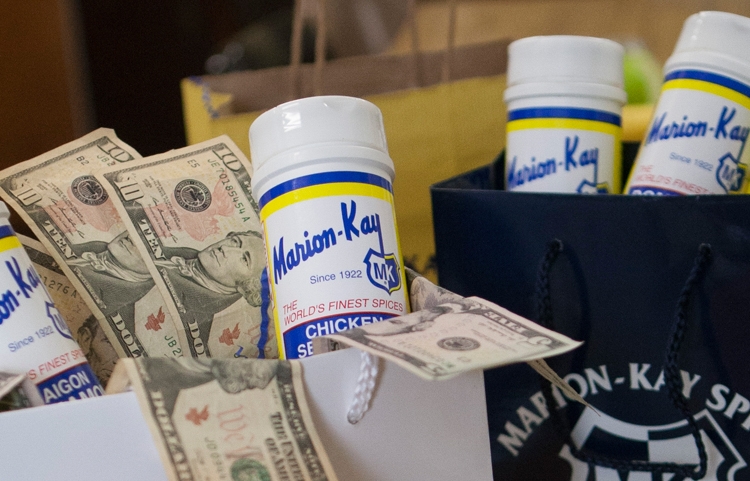 Fundraising
EARN A 50% PROFIT in one of the most successful and easy fund-raising programs in the country!
Our company started as a way for church organizations to earn money by selling the popular Marion-Kay Pure Vanilla. Today, we help hundreds of schools, organizations, sport teams, and churches earn money by providing a simple and profitable fund-raising program by offering our entire line of spices.
We offer a couple of programs designed to meet the needs of both small and large fund-raising goals for different size organizations. The traditional school fund-raising program generally takes 3 – 4 weeks from start to finish. Fund-raiser organizers love our program because it's simple and takes very little effort on the organizer.
Did your sport team make it to nationals and you need money for the trip? Do you have a special project coming up and not enough time to organize a fund-raiser? Try our Spice Blitz program where your team or organization can complete a fund-raiser in one or two days and keep the money earned.
We helped many schools throughout the country earn thousands of dollars throughout the year for this simple reason: Customers love our products, when they run out, customers want more! Most of the schools who participate in our school fund-raising program do it year after year – at the demand of their customers!
Memo from Fund Raising Coordinator
Thank you for selecting Marion-Kay Spices, The World's Finest Spices, as an option for your fundraiser. Our company started in 1922 as a way for church organizations to raise money. Our spices are sold nationwide in almost every state in the U.S. Marion-Kay Spices is a third and fourth generation family owned and operated company. Marion-Kay imports spices from nearly 40 countries worldwide. We use the finest raw ingredients and never add additives or fillers to our products.
Churches, schools, sports teams and a wide variety of organizations have raised thousands upon thousands of dollars by selling Marion-Kay Spices. Our products are the best and have earned the title, The World's Finest Spices.
The Marion-Kay Spice Fundraising Program is easy, simple and most important PROFITABLE! We are excited to announce that all organizations that sell a minimum $1,000 in sales earn a 50% profit!
Please read and follow the guidelines of the program. Due to a tight and full production schedule, Marion-Kay will not process orders that do not follow the proper guidelines.
If you have any questions or comments, please contact me at 1-800-627-7423, locally at 812-358-3000, or via e-mail, Bobbi@marionkay.com
We appreciate your business and look forward to working with you. The crew at Marion-Kay Spices is committed to helping you have a successful and profitable fundraiser.
Fundraiser Guidelines For Marion-Kay Spices
Sales total Minimum $1,000  Earn 50% Profit  Marion-Kay Divides Orders
Sales total 1,000 or less  Earn 35% Profit  School/Organization Divides Orders
Organizations that sell a minimum of $1,000 will earn a 50% profit and have the order completely processed and individually pulled, separated and delivered. For example, ABC School has ten members and each member sells at least $100 in spices, the total is at least $1,000. ABC School returns the individual order forms to Marion-Kay. Marion-Kay processes each individual order and ships all the spices to ABC School. Each box is labeled with the name of the student that sold the spices. Each box has the individual orders in clear plastic bags. Each bag is labeled with the name of the customer and amount due, making it easy for the student to deliver to his or her customers.
Any school or organization selling less than $1,000 in total sales will receive a wholesale discount of 35%. All wholesale orders are master shipped and are not individually bagged or processed. As stated before, Marion-Kay will ship the total number of spices needed, along with the plastic bags and twist ties.
Set-up Marion-Kay Spices Fundraiser
SCHEDULE DATE  Please complete the Registration Form and fax it to our office or call Bobbi at Marion-Kay Spices @ 1-800-62-SPICE (1-800-627-7423) to schedule your fundraiser. Please make sure the Registration form is filled out completely so that we can get all information needed before the fundraiser begins.

RECEIVE THE ORDER FORMS   After Marion-Kay receives the necessary information and approves the dates of your fundraiser, we will mail the Instructional Packet, order forms, Customer Sales Sheets and the Master Sales Sheet. An invoice for the order forms will accompany the order. This charge will be waived at the end of your sale if all uncirculated order forms are returned to Marion-Kay.
CONDUCTING THE FUNDRAISER  Each participating member should receive 5 to 7 fund-raising order forms and a Customer Sales Sheet to track individual sales. At the end of the fundraiser, the Coordinator will compile a Master Sales Sheet showing the name of each participant and his or her total sales.
PROCESSING ORDER
If the total sales are at least $1,000, the coordinator will notify Marion-Kay, with the form supplied with the Instructional Packet, that he or she is shipping the order forms to Marion-Kay Spices. The school or organization must allow at least four weeks for delivery of the spices. The spices will arrive in individual boxes– labeled, bagged and ready for delivery.
If the total falls below $1,000, the Coordinator keeps the order forms and compiles a Master List. The school or organization will receive a 35% wholesale discount. The school or organization must divide and pack the order.
ADDITIONAL INFORMATION
PAYMENT – Full Payment is due 30 days from the ship date of the spices to the school or organization. Marion-Kay only accepts one check from the organization. We do not accept checks from individual customers.
FOLLOW UP ORDERS – We allow ten days after the fundraiser is complete for additional follow up or add on orders. All follow up and add on orders will receive the same percentage discount, regardless of the size of the order.
Marion-Kay Spices Fundraiser Registration Form
For more information, please call (800) 627-7423 and ask to speak to the fund-raising coordinator.
If you would like to share the information above with your Fundraising Team, we suggest that you click the link below to download our Fundraiser Information Packet. By clicking the link, your browser will either open the Packet in a new tab/window or prompt you to download to your computer.
You will need to download the Packet and print it out share the information and to use the handy order form located on page 5.
Once you fill in the form, please fax it to Marion-Kay Spices at the number shown on page 5, "812.358.3400"
To view a sample Order Form, please click the link below: