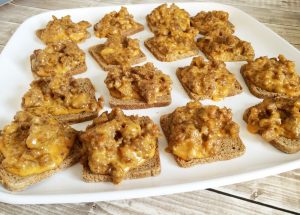 1 lb. Hot Pork Sausage
1 lb. Ground Beef
1/4 tsp. Salt
1/4 tsp. M-K Granulated Black Pepper
1/3 c. Green Pepper, chopped
1/3 c. Onion, chopped
1 T. M-K Oregano Flakes
1/2 tsp. M-K Granulated Garlic
1/2 tsp. Worcestershire Sauce
1 lb. Soft Cheese, cut up
2 loaves Party Rye Bread
Brown sausage, ground beef, salt and M-K Granulated Black Pepper together. Drain
fat. Add sauteed green peppers and onion. Add M-K Granulated Garlic and M-K
Oregano Flakes, Worcestershire sauce and cheese. Heat unti l cheese is melted.
Spread the mixture on party rye and freeze flat. When frozen, place in a plastic
freezer bag. Bake as needed at 400° for 10 minutes.